Peachy Pits Deodorant
Regular price

Sale price

$12.99
Keep your sweat healthy and your pits peachy! Peachy Pits is an all natural, sustainable deodorant that protects against odor and bacteria without blocking sweat pores. Sweat is important for shedding excess heat and detoxifying from within, so we make sure not to mess with nature. There's never been a healthier way to stay fruity all day! 

Ingredients

organic arrowroot powder, food grade magnesium hydroxide, organic coconut oil, organic jojoba oil, soy wax, organic vegetable glycerine, orange essential oil, grapefruit essential oil, bergamot essential, vanilla essential oil
How to Use

Gently rub a small pea sized amount into clean, damp skin with your fingertips. you can use it on other areas of your body as need it. Please do a patch test before using on sensitive areas.
Vegan & Cruelty-Free
Clean Ingredients
Packaged Sustainably
Free Of Synthetic Fragrance And Dyes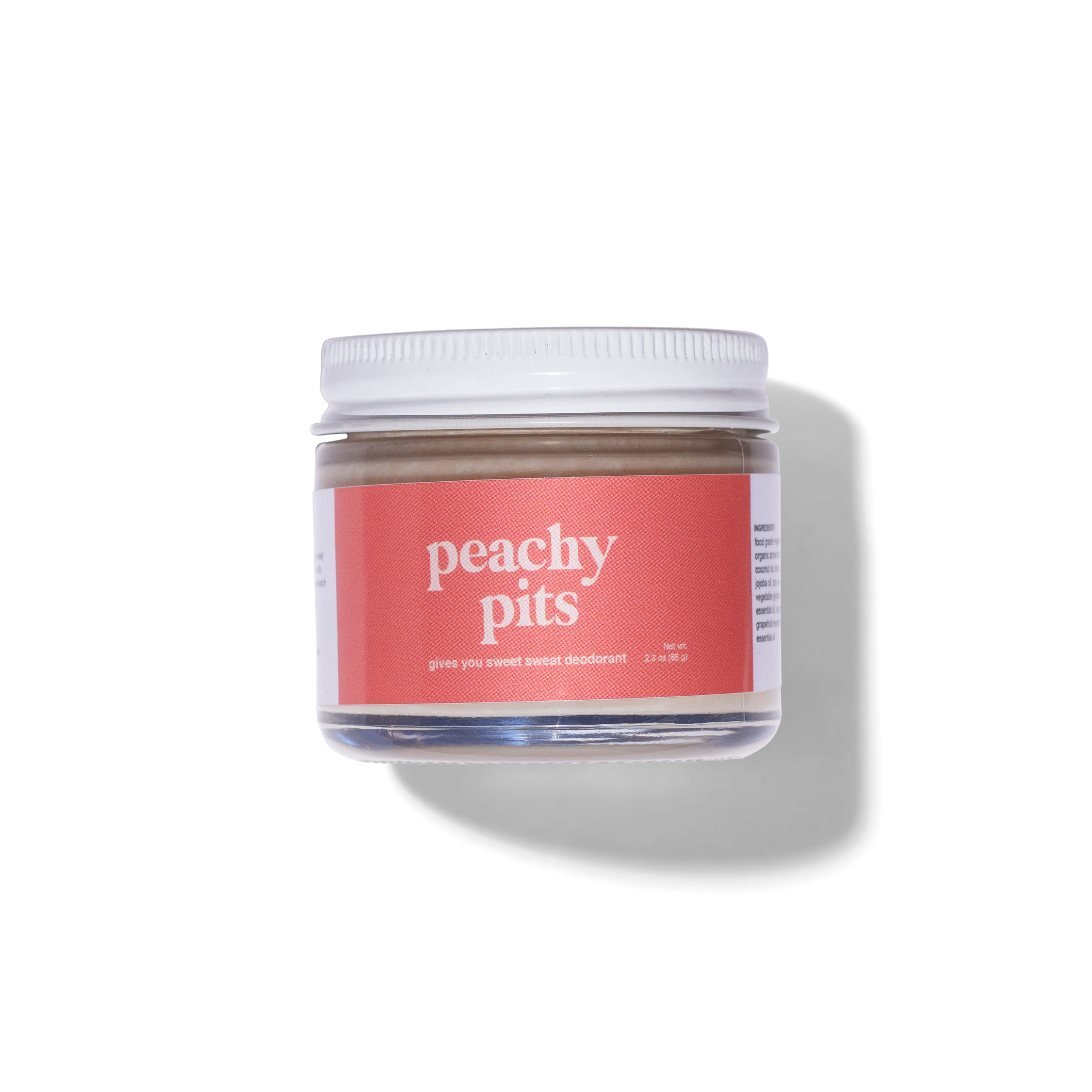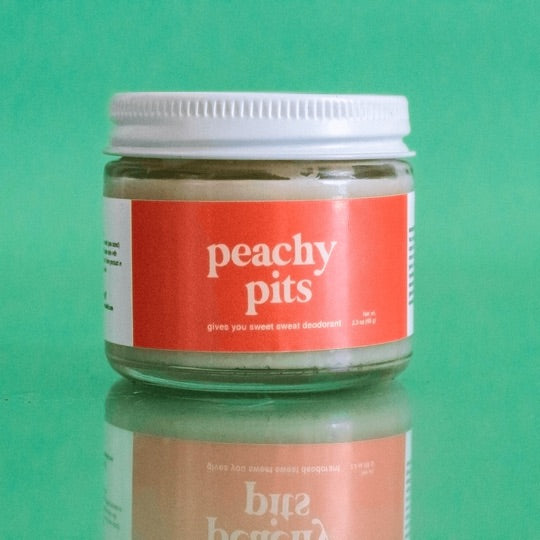 Key Ingredients
Arrowroot

Naturally absorbs moisture and keeps odor to a minimum without irritating the skin.
Coconut Oil

Contains powerful antibacterial properties that prevent the buildup of fungi and odor.
Jojoba Oil

Maintains balanced moisture within the thin layer of underarm skin.
Not stinky anymore
Love this, been looking for awhile for a deodorant that was natural and I took a chance on this, and I did good on my choice. It keeps me from sticking compare to other deodorants I have tried that didnt. Plus I feel safe using this not to worry of any harmful chemicals & it works. Im really happy with this purchase.
Peachy pitts
I was so happy to finally find a deodorant that works for me believe me .I tried over 20 brands and NOTHING worked until I met the wonderful owner of PEACHY PITTS I'm so grateful for this product 😊
Skin Type:
Dry, Sensitive
No clogged pores!
Traditional deodorant, anti-perspirant products give me the blues. They clog my pores and stuff my nose with fragrance that I don't want. The peach fragrance doesn't bother me at all.
This deodorant works for me. I'm not a very active person, but I may have my showers every other day in the winter months. Terra's deodorant lasts that long. It never irritates my skin, which is very fragile.
I had to discontinue using mainstream products because of clogged pores. My mammogram would look questionable whenever I showed up to have one with clogged, swollen pores. The extra mammogram requests don't seem to happen so much anymore. Nor do the clogged pores.
The Peachy Pits product is too dry and crumbly for me. I use a small cosmetics spatula to dig out the product. The Sooth Your Pits product was had more tackiness to it and struck a bit to the skin while I smoothed it in. The Peachy Pits crumbles while it's rubbed in so much so that I stand in the shower to allow the crumbles to fall in the shower instead of on my bathroom floor.
It's a good product. Being made from more natural ingredients is important to me. Supporting a small business is another good thing.
I will buy deodorant from Terra again.
Peachy Pits Works Great!
The Peachy Pits deodorant is great. It has a lovely texture so it's easy to apply. The scent is great and it works really well as a deodorant. Love the clean ingredients!
LOVE
I absolutely love the peachy pits deodorant. This is my second time purchasing it and it's my favorite deodorant I've ever had. I love that I can use it anywhere, not just under my arms. It smells amazing. I don't need perfume anymore because this takes it's place. All around amazing, it's great!