Oz Bath Soak
Regular price

Sale price

$24.99
Get ready to click your heels three times and transport yourself to a world of relaxation with Terra and Self's Oz Bath Soak! Inspired by the enchanting Wizard of Oz, this magical concoction combines the power of Dead Sea salt and Pink Himalayan salt to whisk you away to a realm of relaxation. As you pour a scoop or two into your warm bath, watch the water transform into a shimmering masterpiece, with a dark grey hue from charcoal and ruby-red sparkles from biodegradable glitter, reminiscent of Dorothy's iconic red slippers and the tornado's swirling journey to Oz. Our sweet, spicy, and woodsy scent, featuring notes of sandalwood, clove, neroli, and benzoin, will transport your senses to a whole new dimension.
Ingredients

Dead sea salt (Magnesium Chloride (and) Potassium Chloride (and) Sodium Chloride (and) Calcium Chloride), Pink Himalayan salt (Sodium chloride), Dendritic salt (Sodium chloride), Sunflower oil (Helianthus annuus, Charcoal, Sorbitan monolaurate, Sandalwood oil, Benzoin oil, Neroli oil, Frankincense oil, Biodegradable glitter
How to Use

Sprinkle a few handfuls into running bathwater and swirl gently to dissolve salts. Step in, soak, and feel incredible.
Vegan & Cruelty-Free
Clean Ingredients
Packaged Sustainably
Free Of Synthetic Fragrance And Dyes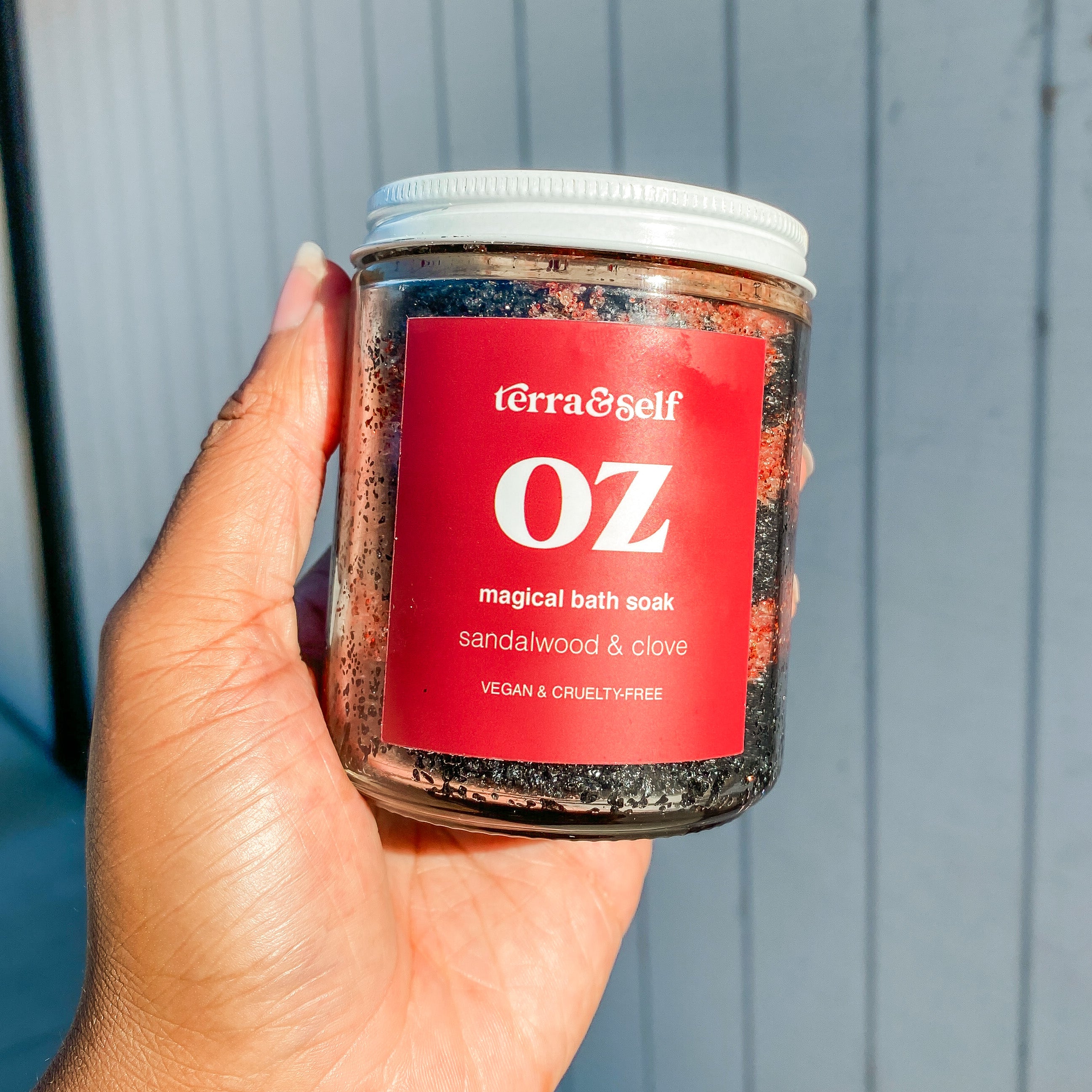 Key Ingredients
Dead Sea Salt

Promotes muscle relaxation easing the aches of sore, tired muscles
Charcoal

Can help to reduce inflammation and redness, leaving you feeling refreshed.
Sandalwood

Can reduce feelings of stress and promote relaxation.